Who We Are
Lumen Fidei (meaning "light of faith") is a Christian contemplative community of faith in action. It is dedicated to spiritual growth, transformation, and healing arising from a relationship with the Holy Trinity. Lumen Fidei founders come from both, Latvia and United States. Lumen Fidei ministry extends in both countries, but it's main focus at this time is the establishment of Christian Retreat Center in Latvia. Learn about Lumen Fidei's Core Values.
Vision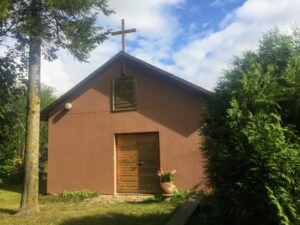 Our vision is to operate an ecumenical Christian retreat center in Southern Latvia to provide spiritual education, growth and encouragement to all comers throughout Europe and Scandinavia. It will provide accommodations, worship areas, and common space for upwards of eighteen participants. In addition, Lumen Fidei intends to expand these services to train clergy and laypersons in the skills of soul care and spiritual direction. Finally, it is the hope of Lumen Fidei to eventually operate a ministry for the marginalized providing accommodations for people in life transition, including the dying, homelessness, economic catastrophe, abusive environments, and addiction.
Lumen Fidei will operate a full-time staff (both ordained and laypersons) to serve, assist and accompany retreatants in these experiences. Learn more about our founders and our ministries.
How We Do It
Sensitive to the deliberately wide appeal of Jesus Christ's gospel, but mindful of the value of tradition, liturgy and ritual of Christian orthodoxy, Lumen Fidei has designed an approach to God's Word to give both invitation and inspiration to Christians of all denominations. With such an approach, Lumen Fidei envisions a retreat center where all authentic iterations of Christ's message can flourish together.
We can't do it without you. Become part of supporting our mission by making a donation to Lumen Fidei.